Nuggets

Priyanka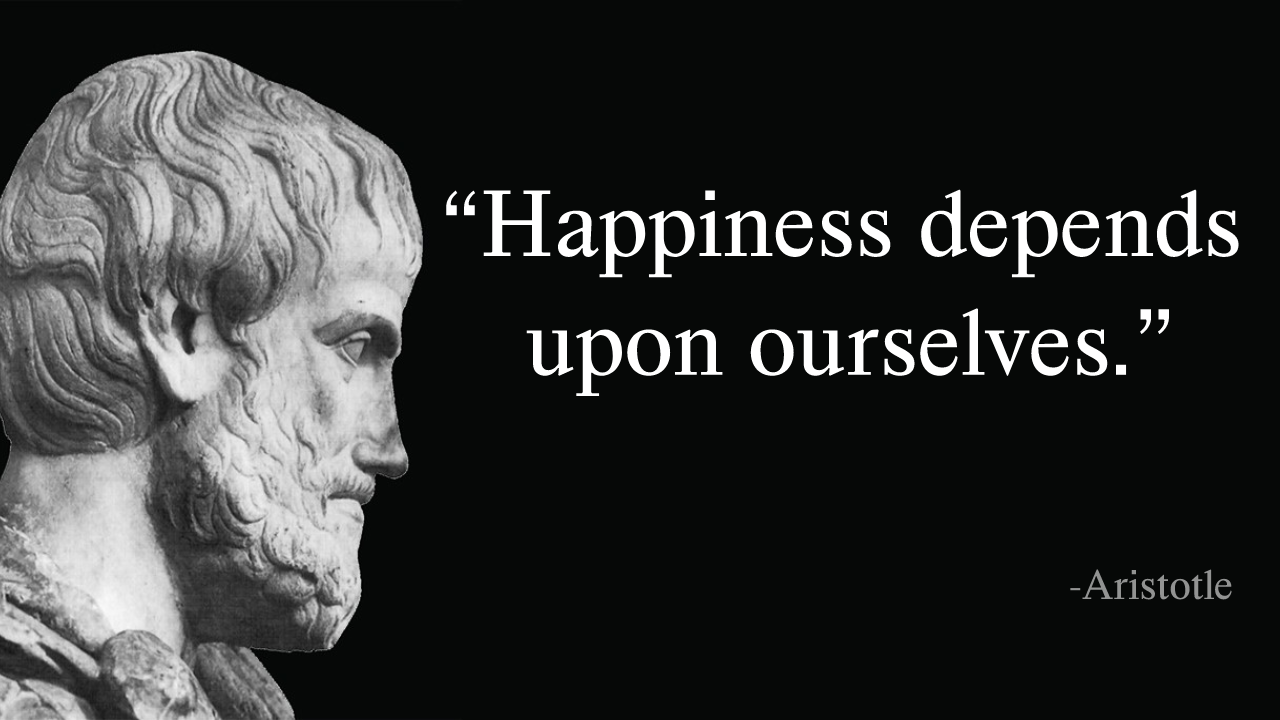 Author Name : Aristotle
Aristotle is one of the most important figures in the history of Philosophy. He laid several important foundations and influenced western world's thinking to a great extent. Some of the ideas and concepts of Aristotle are still relevant. However, this particular quote is incomplete as the natural state of human beings is living collectively in social harmony and not in individuality.

Providing nuggets of wisdom on popular sayings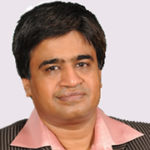 Anand
During Aristotle's times, happiness was seen as something temporary and confused with different feelings. In reality, happiness is a feeling that is not measurable and needs to be always present. That is the default setting in nature. Human beings need to coexist with everything else in nature and be in alignment and happiness will be permanent. Happiness is mostly misunderstood with different feelings like contentment, pleasure, excitement, epiphany, abundance, belonging, achievement, success, etc. These are all in some way connected to happiness but do not constitute complete happiness. A human being is a blend of a life-atom or soul which adopts a physical body to gain enlightenment. The body needs

Debbie
Author Name : Martin Luther King Jr.
Martin Luther King was a champion of civil rights movement, and his ideas were far ahead of his time and the society in which he lived. This quote  reflects his wisdom and courage to uphold the fading tradition of human beings' inherent goodness and kindness in the society.  He clearly aligned himself with the existential reality of coexistence and envisioned a harmonious society where the social stigma was obsolete.

Providing nuggets of wisdom on popular sayings
Anand
To add to Martin Luther's thought, human beings should not limit their compassion to racism, instead they should extend it to all the creatures as well as all the elements in the universe to re-establish an absolute harmonious coexistence. Human Beings learn from culture and tradition, they believe in what is taught to them. That is what makes them Human. This is the feature that has enabled them to create all the wonderful things on this planet. But the same is the culprit for the racist thoughts in individuals. They believe in what is taught by culture and at some point in life finds that it is not true and

Author Name : Charles Darwin
Charles Darwin is one of the greatest scientists whose contributions to evolutionary biology changed the way human beings see the world. His works have influenced a wide range of disciplines from Science and Philosophy to other Social sciences. Darwin tried to understand humans with reference to the animals and the theory of Survival of the fittest evolved. The problem is that animal consciousness is based on greed, affection, and benefits for the self. Human consciousness, on the other hand, is based on truth, justice, and humane value systems.

Providing nuggets of wisdom on popular sayings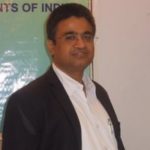 Anand
Theory of Survival of the Fittest did serve humanity to a great extent but now it has already outlived its utility. Coexistence is now starting to make sense all around. Human beings are beginning to understand that earth has abundant material and using it prudently is what human beings need to do. Coexistence is reality and not the competition. Understanding and practising coexistence is the sole purpose of human beings, in the same way as everything in nature is in alignment and in a progressive path.

Tim
Author Name : Sadhguru
Sadhguru is a spiritual life coach and a prominent personality in India, having motivated so many people to rise above the futile miseries, although that transition is only partial. The quote by Sadhguru needs some additions as well as amendments because life cannot be understood merely through the perception. Aligning this perception, (created using the imagination power) with actual reality is what is needed. Awareness and proper understanding alone can help man align the perception with existential reality.

Providing nuggets of wisdom on popular sayings
Anand
Expression is a product of imagination that defines and creates a human being. Correcting the wrong perception given by culture and society is the need and expression is the tool that can help do that. Perception created using imagination is the primary reason for all misdeeds done by mankind till today. Being imaginative human beings create a perception to justify their wrong acts or mistakes. This is why having perception is not enough, the perception needs to be aligned with actual reality in order to experience and understand the absolute knowledge about life.

Bobby
Author Name : Pablo Picasso
Pablo Picasso was wise enough to see through the mighty power of human imagination. But he failed to mention that perceived reality is different from the actual reality. The purpose of human beings on this planet is to align the actual reality with the perceived reality that the frontal cortex and the fully advanced brain is able to conjure up.

Providing nuggets of wisdom on popular sayings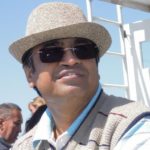 Anand
Reality is what is there in existence. A human being having the power of imagination can create many realities in his imagination. For him, the truth is what he perceives it to be. He can believe in something as a fact (truth in his mind) while it is not there in reality. Aligning and Positioning himself with reality is the objective of a human being.

Shivam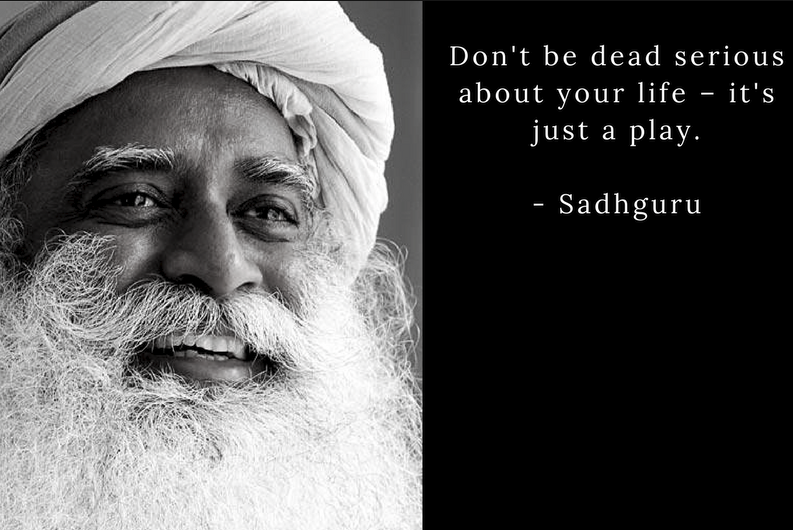 Author Name : Sadhguru
Life is understanding and experiencing. It's not a play. The soul or life-atom that has the thoughts is in the quest to understand reality as it is, and experience the joy of knowing the reality. The soul through the physical body can interact with other souls and create powerful memories out of them and enjoy. People need to understand and coexist with other human beings and earth. It is that simple.

Providing nuggets of wisdom on popular sayings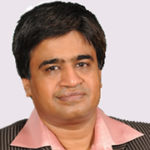 Anand
Sadhguru has tried to inspire people to not be overwhelmed by the situations to the extent of going paranoid. But in that attempt, he shares an incomplete picture of reality. Life is no play but an opportunity to understand and experience the reality. A human being is a perfect blend of the most advanced physical body and the life-atom (soul) which energizes and resides in the body. Answering every "why and how" satiates the hunger of the life-atom, while the material needs and facilities satiate the hunger of the physical body. Satisfying the needs of both parts of the human self is what is called living.

bob
Author Name : Mahatma Gandhi
Mahatma Gandhi has stated a profound thought about loving the sinner, since he acknowledged the inherent goodness in a human being and saw the sin as distinct from the sinner and not a characteristic of human beings. However, this thought remains incomplete as it does not enlighten us about the reality and the true nature of human beings. In reality both sinner and sin are non existent.

Providing nuggets of wisdom on popular sayings
Anand
There is neither sin nor sinner. Humans called sin to those things which they found bad but did not have proper knowledge about the same, so all those acts, which were not understood by the society were labeled as sin. The knowledge about human nature is now available and no human being is a sinner. The evil taking root in people will require us to study the human being and how people form an opinion. Intrinsically no Human being can be evil or support injustice.

Priyanka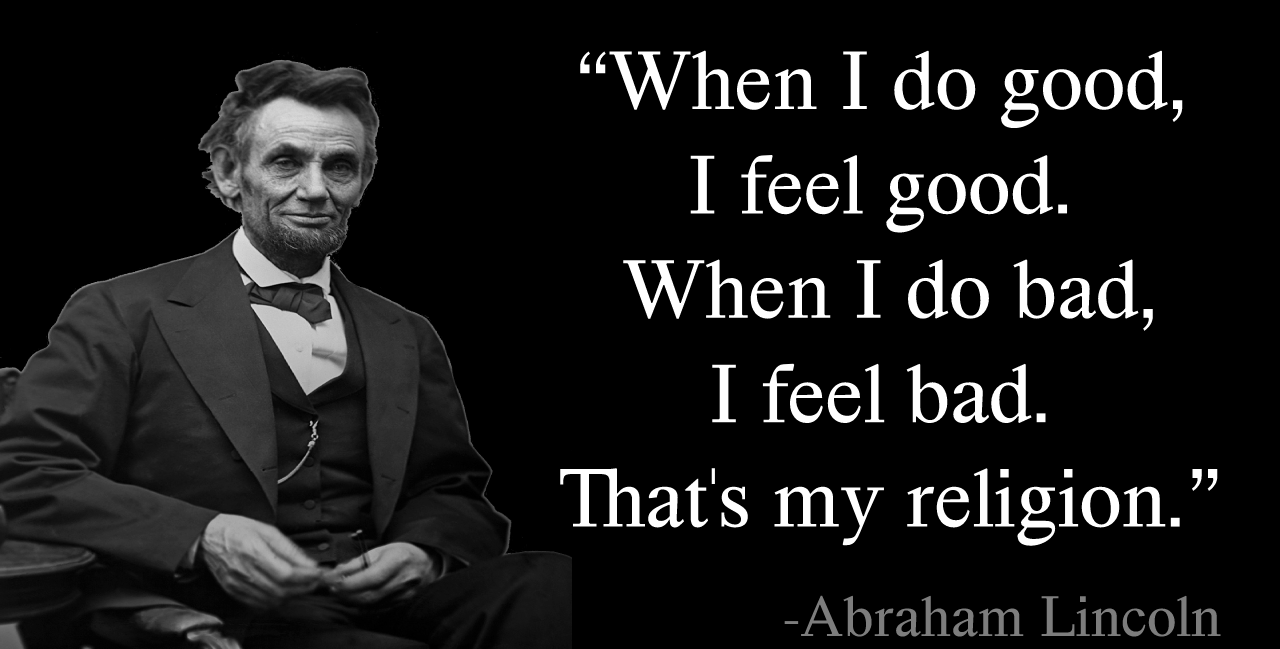 Author Name : Abraham Lincoln
Abraham Lincoln was well aware that goodness is the default setting in human beings while bad behavior is an anomaly and not a part of human nature. However, the science behind negative feelings arising from a bad conduct was not understood till Lincoln's time.

Providing nuggets of wisdom on popular sayings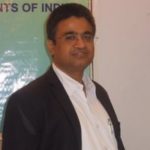 Anand
Evilness is not a human trait and in reality it is nonexistent. Intrinsically no human being can be evil or support injustice. When the culture because of improper understanding does handout wrong lessons as a way of life, human beings feel bad from the inside and over a period of time the new generations get rid of that practice. From the concentration camp of the Nazis to the mother Teresas and Dalai lamas, human beings are coming to value Compassion, Empathy, and community living.

Bobby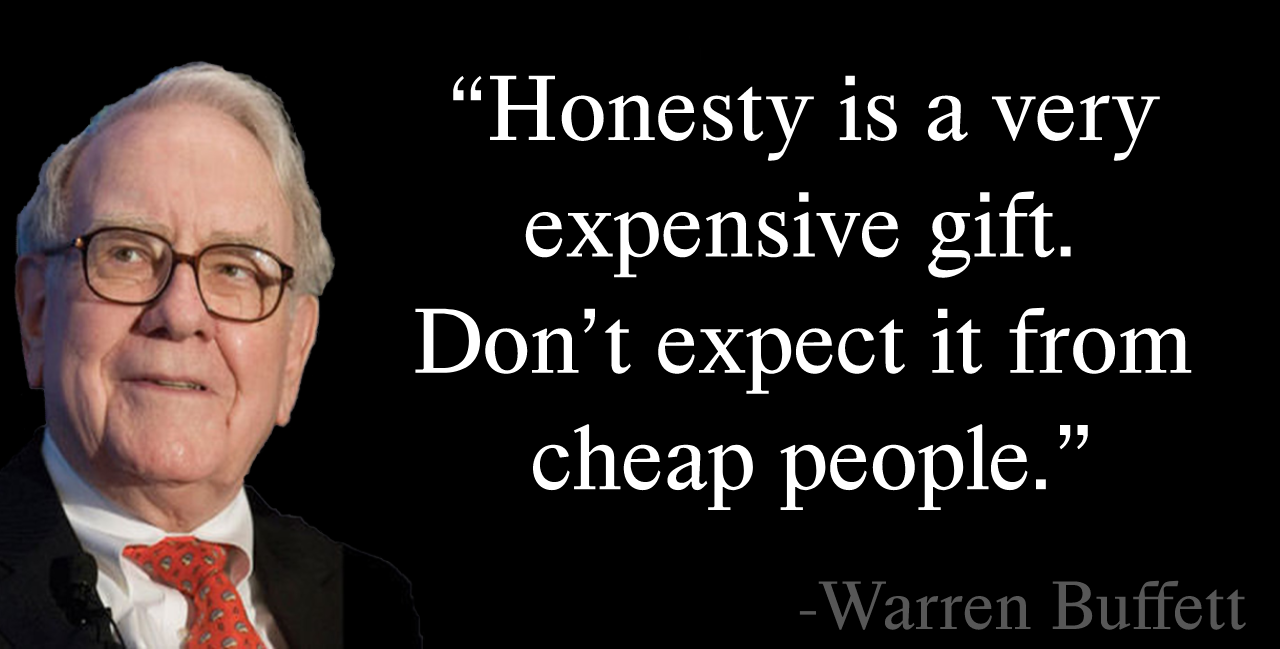 Author Name : Warren Buffet
Before the knowledge of coexistence was discovered, Honesty was seen as an acquired trait that was practiced only by a few virtuous. Now that the underlying principle coexistence is fully understood, we know Human beings as species are uniform all over the world, having similar innate traits of goodness and righteousness.

Providing nuggets of wisdom on popular sayings
Anand
The Potential inside everyone is infinite and no one is in any way cheap. The difference is all that is imbibed during the process of growing up. Human beings do things as per their understanding and the acts of dishonesty are mere the result of lesser understanding. Culture teaches a person a belief system that he finds a way to justify dishonesty and he does that assuming it to be correct. The way out of the situation is to understand more. Go into the mindset of the dishonest person and identify the baggage of thoughts, culture, and upbringing he carries and why he resorted to dishonesty.