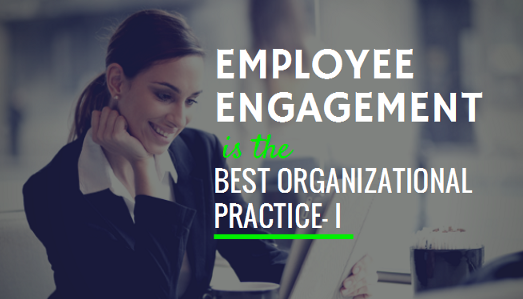 Employee Engagement is the Best Organizational Practice — I
Engaged employees are the keystones of progressive business organizations. Acting as voluntary contributors, they are able to align their personal goals with organizational goals. Such employees have emotional attachment with the company and are less likely to be tempted to leave for a higher salary elsewhere. Like leaders, they are willing to give their personal effort and time, and go the extra mile for company's success.
However, the unfortunate truth is that, businesses today are suffering from employee engagement crisis, with severe and potentially lasting repercussions for the global economy. While businesses are acknowledging the importance of an engaged workforce, the global employee engagement rates have barely increased in recent years.
"According to Gallup's study on the State of the Global Workplace covering 142 countries- "only 30% of employees in the United States and 13 % of employees worldwide are engaged and committed to their job."
Defining Employee Engagement
There is no universally applicable definition of Employee Engagement. Based on different studies, one can simply define employee engagement as the extent to which employees feel enthusiastic about their job and are committed to the organization.
Management authors use the apocryphal story of a janitor working at NASA during the Apollo 11 lunar mission, to define engaged employees. The janitor was asked by the then President John F Kennedy- "what was his job " the man replied- "I am helping to put a man on the moon."
Regardless of how small or unnoticeable his contribution was, the janitor saw his work as a service to the mankind. He felt a direct relation between the work done by him and that moment when Neil Armstrong took his first step on the Moon. In the same way, engaged employees value their work and their contribution to the company. They take comfort in knowing that their work makes a difference. It makes them feel that their efforts are vital.
Measuring Employee Engagement
1. Employee Engagement Survey:
To find out what employees think about their job and the company is to simply ask them. Conducting company wide informal interviews and surveys is a great way begin with.
Employee Engagement Survey model has been specifically developed to measure the engagement levels. It provides tools to benchmark against other organizations to identify whether the problems are limited to the company or industry wide.
2. People Analytics:
People analytics opens the door to extensive data insights, providing quick measures for companies to better map the engagement levels. It helps to identify factors that drive an employee's sense of engagement with the job and the organization. These insights can help predict which employees are likely to resign from the company in the period of next 3 to 6 months.
Since companies invest a lot of time and resources in training & development of employees, it becomes absolutely necessary to plan strategies to rehire or re-engage such employees and reduce the attrition rate.
Employee Engagement or Job Satisfaction?
Engagement and job satisfaction go hand in hand. While engaged employees tend to be more satisfied at their job, the satisfied employees are more likely to be engaged at work.
But here is a catch! Despite companies having a higher rate of satisfied employees, there has been no increase in engagement rates of such companies. This happens because most of the organizations measure employee satisfaction regularly, but only a few organizations measure employee's engagement with the job.
Employee satisfaction survey measures how happy the employee is with his job, company, and the workplace. Employees can be satisfied with their job, without being actively engaged and enthusiastic about their work. Thus, employee satisfaction survey is more about pay and reward structures, management of employees and working conditions, rather than engagement.
On the other hand, Employee Engagement is all about individual's affinity with the company. Engaged employees are not just satisfied with their job and the status quo, they are also motivated to act. They want to contribute to the organization's overall success. While job satisfaction survey helps to retain the employees, it is not enough to ensure productivity. So, working on employees' satisfaction without addressing their engagement levels, will not help building a workforce that drives business results.
Benefits of Employee Engagement
Cultivating strong employee engagement results in a positive change of behavior in employees, leading to greater productivity. Engaged employees are top contributors in the success of every business. Studies suggest such employees are likely to have a high level of commitment and loyalty.
Engaged employees exhibit better customer service leading to an improved customer experience. Clients who had a good experience of dealing with employees become regular customers and advocates for the company. This leads to increased profitability. Some other benefits of improving engagement levels are listed below:
Employee engagement leads to innovation at the workplace.
It promises employee satisfaction and well being.
It leads to increased collaboration across departments as employees become more responsible.
Studies show that engaged employees help achieve twice the annual net income of organizations having a disengaged workforce.
Reduces the absenteeism and staff turnover.
All in all, it is prudent to invest time and resources on improving engagement levels to have a productive workforce.
In the next post, I will discuss practical and cost effective ways to improve employee engagement.